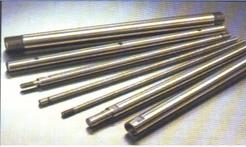 Guide Rod offered feature quality finished construction and finds extensive application in hydraulic cylinders and in automation industry. These find use in guided cylinders and come mounted parallel to piston rod so as to provide for stable, non-rotating, high side load performance.
Further, their durable construction finish also make these provide for longer service life as well as reliable service support. Some of its features include available in a wide range of configuration choices, heavy duty and precision construction models, support reduction in rod bending, uneven seal wear and other performance related issues.
These Guide Bars are widely used in many industries like process equipment, drilling & mining construction, ship building, plastic processing, material handling, metal forming, furnace industry, municipal utility equipment.